Reiter
Hybrid Teaching Scenarios
Hybrid teaching describes the interplay of classical face-to-face and online teaching. A conceivable scenario is one in which some students are present in the lecture theatre/seminar room and others are connected live from home.
Such offers make sense and are necessary if not all students can or may be on site (e.g. due to quarantine, risk groups, stays abroad, etc.).
How to proceed:
In order to deliver a hybrid session, you will need the following basic equipment:
Internet connection and projector in the seminar room
Laptop
room microphone
webcam
Web conference room (BigBlueButton, Zoom, DFNConf)
Recording of the information event "Possibilities of hybrid teaching at the University of Freiburg", 20 July 2021 (in German)
Slides from the information webinar
Quick Start
Mobile solution in small rooms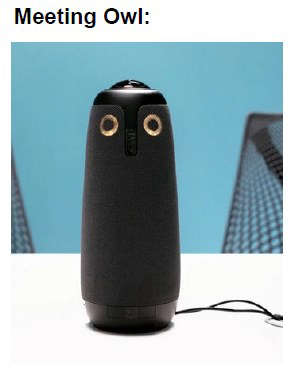 In small rooms you can use a mobile table microphone and optionally a camera, e.g. the Meeting-OWL:
Table microphone & loudspeaker
360° cameraautomatic
Image focus in the room on up to 3 speakers
Connection via USB
Borrow the Meeting-OWL from Medientechnik RZ, Rempartstraße 11, 2nd floor room 02 008 ( Loan status and reservation)
In the seminar room:

Connect laptop to internet (ideally with LAN cable).
Connect Meeting OWL via USB
Connect projector via HDMI cable
Initiate a video conference via BBB or ZOOM
Further tipps/recommendations
KIT presents a setup
consisting of a tripod, tracking camera (recording 300° range) and radio microphone set with up to two microphones (use one of them as a toss microphone). The set and the setup are excellently explained in the video on the right (only available in German, sorry!).
Video conferencing systems in seminar rooms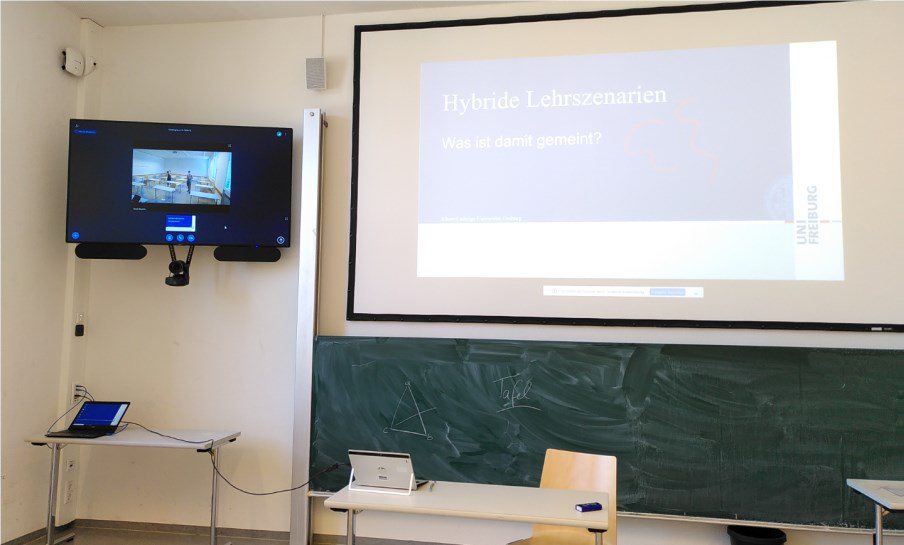 Pre-installed Technology:
Video conferencing equipment with room microphone on ceiling
3 rooms equipped in KG I:
1224
,
1228
,
1234
Procedure.
Room booking via HISinOne (siehe Room Inquiry Event Management in HISinOne, Login with uni staff account)
If necessary, introduction to seminar room technology (medientechnik@rz.uni-freiburg.de)
Connect laptop to LAN and VK system (2x USB, 1 HDMI available, sockets and control console on the wall)
Initiate a video conference via BBB or Zoom
Recording and broadcasting of lectures: Panopto Lecture Halls
The following rooms, which are equipped with appropriate lecture technology, are suitable for recording and broadcasting lectures:
KG 1:

1009, 1010, 1015, 1098, 1199, 1221, Aula, Max-Karde 1+2

Paulussaal

Institutsviertel

: Pharmacy, Crystallography, Otto-Krayer, Physik, Physics practicas, Anatom
Procedure:
Book lecture hall via HISinOne (search for feature "Lecture recording")
Schedule individual lecture or series as livestream/recording in ILIAS course
If necessary, briefing on lecture hall technology (medientechnik@rz.uni-freiburg.de)
Use lecture hall technology --> Livestream will be recorded automatically
Hybrid offerings in the teaching pools
The computer pools in Werthmannstrasse 4 and in the computer centre can also be used remotely, e.g. from home. External participants can be connected via BBB or Zoom.
Procedure:
Advice from the Department of University Didactics
Individual counselling by the Department of Higher Education Didactics in a digital
online consultation
from 25/08/2021!
Or the daily short consultation hotline (203-96777),
14-15 hrs, from 20/09/2021 !
Media Technology (Meeting OWL & Seminar room instruction):
medientechnik@rz.uni-freiburg.de
panopto@ub.uni-freiburg.de
Tel: 4600
elearning@rz.uni-freiburg.de
Further suggestions for hybrid teaching scenarios
Recording of the webinar from the winter semester 2020:
Impulse on Hybrid Teaching by Silke Weiß, Department of Higher Education Didactics
Weblinks on hybrid courses (in German) :
HowTos zu hybriden Bildungsveranstaltungen
Technical Equipment for Hybrid Seminars - Video Tutorial by KIT
Karlsruhe Institute for Technology (KIT) has produced an excellent
(video-)tutorial
for conducting hybrid seminars (in German). A relatively inexpensive mobile set is presented and the set-up is described step by step.
Brian J. Beatty, Hybrid-Flexible Course Design
Help and support
If you have any questions about ILIAS, you can reach us ...
via our Forum, where you will find many already answered questions about ILIAS, and where you also have the possibility to ask questions yourself.
via the e-mail address ilias@rz.uni-freiburg.de.
In all other cases, please contact us via e-mail to
elearning@rz.uni-freiburg.de
.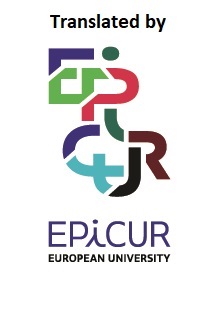 Further use permitted: "Digital Teaching Toolbox" by E-Learning Department, University of Freiburg is licensed under a Creative Commons Attribution-ShareAlike 4.0 International License.
Zuletzt geändert: 19. Okt. 2022, 15:02, Hutz-Nierhoff, Dorthe [dh1076@uni-freiburg.de]